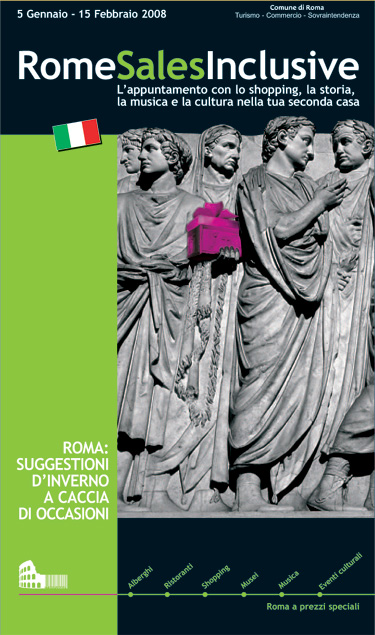 ROMA
invites you to enjoy its streets.
Why vacation in Rome in winter? Because Rome is always
ready to welcome its guests and is an eternally beautiful destination
where culture can be linked to shopping in the most attractive of
places.
Rome's multitude of resources spread across many areas
allow visitors to choose from an infinite variety of entertainments:
art galleries, shopping, the pleasures of food and good wine. During
this special time of the year the sales make it an occasion to become
acquainted with this City of a thousand faces whilst easily finding
bargains.
From the heart of Rome around piazza di Spagna, between
via Condotti and via della Croce, until the rise to via Veneto, are the renowned shops offering "elite shopping". Without going too far you can continue a walk to Fontana di Trevi and piazza Navona where visitors can enjoy the best traditional Roman cuisine. The capital's historical centre also hosts stores with clothing that is "casual" and youthful, at decisively accessible prices. So don't forget streets with shops that are especially loved by Romans, such as via del Corso, via Cola di Rienzo and via Ottaviano.
Also featured are the various markets around the city where,
especially on a Sunday morning, you can loose yourself in the purchase
of antiques and curiosities of every type in a colourful noisy
atmosphere.
Rome's shops are usually open from 9.00 AM to 8.00 p.m as
many commercial premises in the historic centre have continuous
hours and stay open on Sundays. The extraordinary sales at the end
of the season begin on the second Saturday in January and last for
six weeks. At this time there are huge discounts from 20% to 50%.
You cannot afford to miss this event.